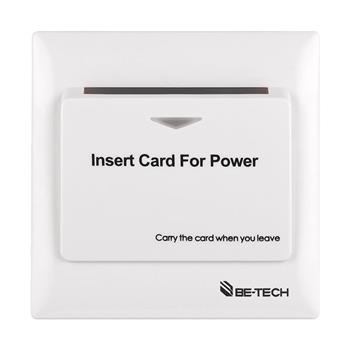 Energy Control Unit
Descriptions:
Be-Tech offers a full range of in-room hospitality accessories, and Energy Control Unit is included, this is the prefect solution to provide convenience to your guests and saving energy and money when guests are not in room.
Compatible with the same Be-Tech room keycard, and intelligent to differentiate different room guest keycards, so as to limit the use of air conditioning and other electrical equipment in the room only to right room number hotel guest.
Benefits
• Disconnect electrical equipment and air conditioning when guests are outside the room to saving energy and money.
• Comfortable timer for guests when removing the keycard from the Energy Control Unit.
• Standard and simple installation.
• Blue color LEDs for easy locationwhen entering the room.
• Own power supply with minimumconsumption (30m/Amp in stand-by and 40m/Amp when on)
• Can prevent hotel guests from using certain electrical equipment(Air Conditioning, TV, Phone, etc...) by insert a name card/credit card while not in the room.
• It only works with hotel specific room number keycards (*)
(*)only for the Smart RFID Plus
Dimensions:
SPECIFICATIONS